Interview with Jason Frazer of FOX Weather About His World Travels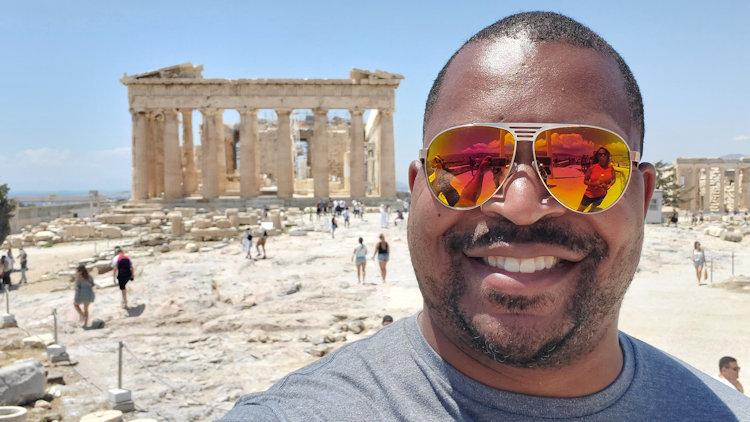 Jason Frazer serves as morning co-host on Fox News Media's new national, 24-hour streaming weather channel FoxWeather.com.
What do you love about travel?
Travel is the greatest form of Education anyone can receive. I become a better citizen when I understand how the world works and each culture's history. I also love learning about why a city's streets were designed a specific way and the history of it's architecture. How the buildings are designed says a lot about the weather of each city and it's history. Traveling helps you see all of this firsthand.
My wife Romney and I love taking cooking classes during our trips Its fascinating to see how different cultures use the same items in traditional dishes. The spices used in rice is different in Dominican Republic and Singapore. Both are delicious by the way!
I'm also a big fan of trying new things and a huge fan of flying. The best seat in the house is always a window seat. I love looking at the different cloud formations (classic Meteorologist right?). I've visited 30 states, 1 U.S. territory, and 15 countries. I've traveled over 150,000 miles via airplanes across. The biggest question I get from people is how do I travel so much? Airline mile credit cards are my secret. I use them to rack up miles on everything from rent to groceries to a night out on the town. As a result, I fly for free at least 2-3 times a year. Recently, I flew first class from Athens to NYC by using my airline points.
We've heard you are a certified drone pilot.Tell us more about that.
I have a fascination with aviation. I want to one day get my pilot's license. I started small with my drone pilot's license. I saw it as a way to combine my love of TV, Weather, Traveling and Flying.
The most difficult part of flying a drone isn't actually flying. It is figuring out where you can legally fly a drone. Many metropolitan cities like New York ban drones because of their potential to interfere with nearby flight operations. Once you figure out where you can take off, the rest is like driving a car. The more practice you get, the better you will get.
Another struggle for beginner pilots is determining how the weather will impact flying your drone. The stronger the winds, the harder it can be to control your drone. Strong winds will deplete your battery quickly because the drone is using more power to stay steady. So definitely check the local weather report before flying. You also don't want to fly your drone in the rain. Even mist can affect the functionality of your drone.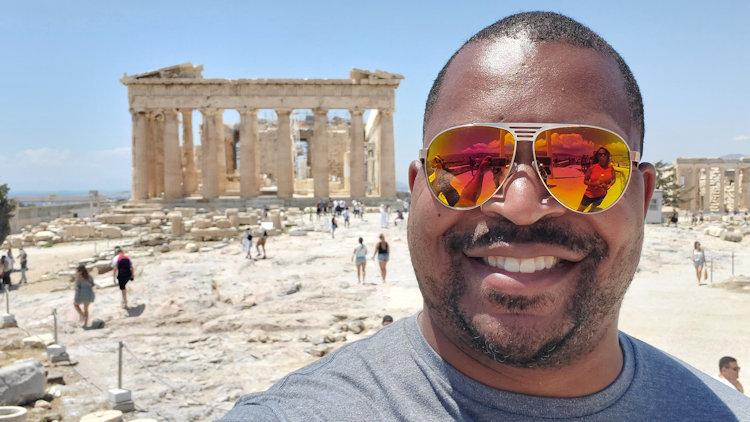 Different countries have different rules on flying drones. While I LOVE traveling, I always make sure to check local ordinances before flying!
Where have you traveled lately and what were some of your favorite things you did in those places?
Because of the ongoing Covid pandemic, the amount of trips I took dramatically dropped. However, due to declining rates last Summer, I went to Montego Bay, Rome, and Athens.
My dad's side of my family is from Jamaica. My favorite thing to do there is just to meditate while sitting on the beach. When I want to have a little bit of fun, we will take one of the boat rides to do some snorkeling and see the nearby reefs.This past Summer also included a trip to Europe. To see the Vatican in person was an experience that is difficult to put into words. My spirit felt at peace. I felt like God was with me as I walked through the Vatican. While I didn't see The Pope (one day hopefully), it was incredibly fascinating to learn about the history of the Catholic Church. Most people don't know but Vatican City is an independent country.
Rome has some of the BEST food I have ever eaten. My wife Romney and I took a cooking class where we learned how to make pasta and tiramisu from scratch. We took a food tour that included local delicacies like truffle salami. It made your mouth water. That's how good it was. The best pasta dish I ever had was at Hostaria Pantheon. The four cheese ravioli. Wow, just thinking about it makes me hungry!
After Italy, we traveled to Athens. At Columbia University, part of the core curriculum is learning about the Acropolis. However, to walk through it and learn more about the architecture was breathtaking. The entire city is built around the Acropolis so you can see for miles in every direction at the top. One of best sunsets I have ever seen in my life was standing at the bottom of the Acropolis.
Do you have a favorite destination so far, and why?
This is a tough one. Every place I have been to I have enjoyed. Because I am newly married man, I will say Puerto Rico because that's where I got married!!=)
However, I really have to say Italy and Jamaica are my favorites. Both countries really make you feel like you are family, are near water and the food is amazing. I did also love Thailand because it was the first time I ever had a custom suit made within 48 hours for under $200.
Do you have a favorite hotel and why?
Miramar Hotel By Windsor in Rio De Janeiro, Brazil.
Our room overlooked the world famous Copacabana Beach. Each morning, I woke up I saw the beautiful mountains and world famous Copacabana Beach. It was pretty cool to see the beach next to the bustling street. It was also close to plenty of shopping and restaurants.
I am really big on customer service. The staff took time to ensure they knew your name. They also helped with identifying activities around Rio. The hotel also had one of the biggest and best complimentary breakfast buffets I have ever had! Each morning, a buffet of local cuisines, fresh pastries, fruit and as much jelly as you wanted was offered to guests. They also made some of the best cheesy biscuits I have ever had in my life.
What's next on your travel bucket list?
Next month, I plan on traveling to Bermuda for the first time. Later this year, I'm hoping to head to both Spain & Portugal or Liberia & Ghana. The rule in my family is if I travel more than 6 hours, I try to see several countries during the same trip. Of course, this is all dependent on if we see another spike in Covid cases.
My life goal is to visit every country in the world including Antarctica.
What got you interested in meteorology?What can you tell us about Fox Weather?
The cool part about Fox Weather is how versatile our app is. If you're traveling, you can get your destination's weather up to a year out. If you are planning an anniversary trip or a vacation, you can use Future View under the Plan tab to get the weather for your upcoming trip. As you get closer to the trip, you will automatically receive updates on what the weather will be like. It is really perfect for travelers.
The app also has a livestream on it. Each weekday morning, you can watch me and my colleagues Britta Merwin and Stephen Morgan from 6a-10am EST. Fox Weather is very different from our competitors. We like to explain the science behind why something is happened. We also will tell weather adjacent stories i.e. how 5G rollout could force airlines to cancel your flight or what a Tsunami is and how to prepare for it.
Storytelling and Weather has been in my blood since I was 5 years old. Some of my earliest memories involve me looking up at the sky and admiring the clouds or watching the weather on TV. I can remember during the 1996 Blizzard in NYC and seeing how the Weather shut down the city. I remember thinking I have to learn about why this happened and how I can predict events like this.
Growing up, I watched Al Roker on our local NBC station in New York. He always provided an interesting science fact while keeping his broadcasts fun. That is the type of Meteorologist I strive to be.
What is your dream vacation?
Bora Bora -- I'd love to see the overwater bungalow suites and turquoise blue water in person!
Tags:
do you need a license to fly a drone