FAA Authorizes 35 Miles of BVLOS Drone Operations for NUAIR Quick Links Recent Issues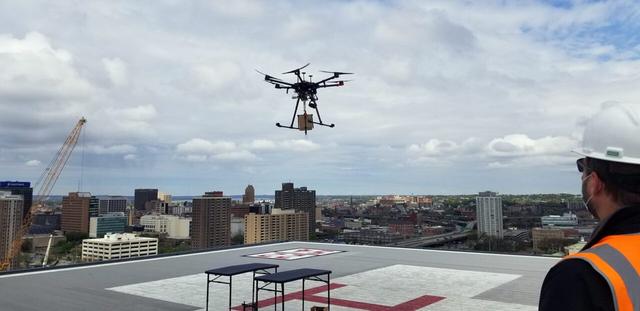 The FAA has now authorized NUAIR and the New York UAS Test Site for beyond visual line of sight drone operations across 35 miles of the 50-mile drone corridor in New York State. (Photo: NUAIR)
New York-based nonprofit NUAIR (Northeast UAS Airspace Integration Research Alliance), which manages operations at the New York UAS Test Site, received authorization this week from the Federal Aviation Administration (FAA) for beyond visual line of sight (BVLOS) drone operations in 35 miles of airspace. The designated airspace is within New York's 50-mile drone corridor that connects the cities of Rome and Syracuse, NY. NUAIR's long-term mission is to promote the safe integration of unmanned aircraft systems (UAS) in the National Airspace System (NAS).
NUAIR and the Test Site were first authorized for BVLOS in 2019 in a small airspace at Griffiss International Airport in Rome, NY. Local county executive Anthony J. Picente Jr. commented on the newest authorization in a press release this week, saying: "The one-of-a-kind testing, research and development that occurs here is elevating the entire industry. This latest FAA authorization will allow our 50-mile drone corridor to push the limits of what is possible."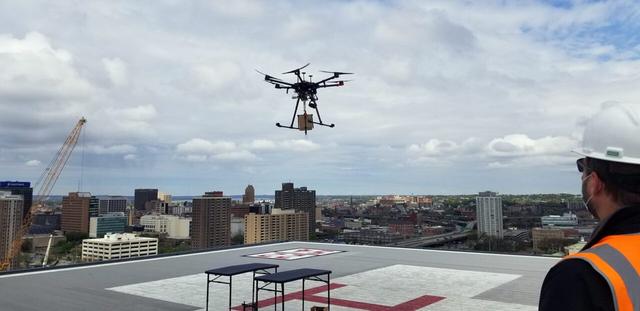 This image shows the location of the 50-mile drone corridor in New York which reaches from Syracuse to Rome. (Photo: Google Maps)
A ground-based surveillance system (GBSS) that is integrated throughout the 50-mile drone corridor allows NUAIR to monitor air traffic in order to quickly detect any intruder aircraft occurring.
Tony Basile, NUAIR's chief of operations, looks forward to the nonprofit's expanded ability to fly BVLOS, which he says will allow their team "to test more advanced, long-range flights and help us prove BVLOS operations can be done safely—the key component in realizing the true economic advantage of commercial drone operations." Some of these operations will likely include medical and package deliveries.
In June 2021, a team completed a medical delivery via drone as part of a project to test the feasibility of such an operation. The NUAIR alliance collaborated with Virginia-based company DroneUp and SUNY Upstate Medical University to successfully deliver a COVID-19 test kit. While this was a significant achievement, some roadblocks to enabling routine medical deliveries via drone include the high cost of operating the drone, risk of exposure to biohazardous materials, and the need to receive FAA approval for specific drone models to make such deliveries.
Tags:
a drone visual company