YouTuber tests whether a Tesla autopilot would run over a cat, a kangaroo and Elon Musk New MIT study confirms Tesla's autopilot is indeed unsafe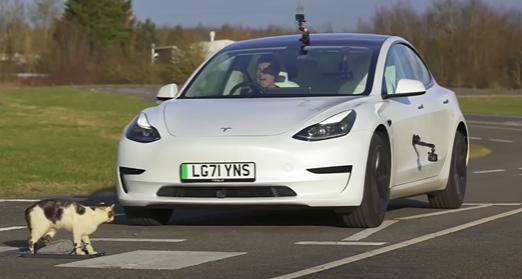 Apparently, having the Massachusetts Institute of Technology (MIT) confirm that Tesla's previously praised autopilot feature is unsafe back in September 2021 wasn't enough proof for Mat Watson, the car enthusiast behind the YouTube channel carwow. Wanting to test the infamous electric vehicle's limits further, the YouTuber posted a video titled Will a Tesla KILL a cat? on 10 March of this year. In it, as you probably would've guessed by now, he tried to figure out whether a Tesla car left on autopilot would be able to notice a defenceless cat in the middle of a road and slam the brakes early enough to not kill it. Lovely.
With just under half a million views to date, the 12-minute-long video showcases two different vehicles—a Tesla Model 3 and a Volvo V90. Both include (and are known for their) automatic safety features that are said to brake for obstacles when the driver isn't paying attention. That's why host Watson tested them both against another car, a pedestrian and even several other sizes of animals.
"What I'm gonna do is test out the automated braking system on this Tesla to see exactly what it's designed to recognise," he said while standing on the professional closed course designed to simulate an urban environment. "Will the Tesla kill Elon? We're gonna find out."
When the YouTuber drove both the Tesla and the Volvo at another Model 3 made out of foam, both braked in time. The same happened when he tried to drive straight into a cardboard cutout of Elon Musk. Who would've thought, right? Although the cars passed with flying colours for those tests, Watson noted that the Tesla braked sooner yet left less distance between the car and the obstacle. Furthermore, the Volvo tightened his seat belt while braking to prevent Watson from hitting his head on the seat and kept his body relatively still while the Tesla didn't.
After that, the car enthusiast went on to experiment with a rather large kangaroo stuffed animal, which the Tesla identified and successfully avoided. But as Watson placed smaller animals like a stuffed dog and taxidermy cat in the middle of the road, both cars failed to brake for them. In other words, yes, your Tesla will probably run over a cat if you aren't paying attention to the road and decide to put too much of your trust into the hands of its autopilot.
And if it does auto-brake, pressing the accelerator down will override the system, as Watson further demonstrated by zooming over a cardboard cutout of Jeff Bezos. It's safe to say that if you're looking for a perfect self-driving car, we're not there yet—so keep your eyes on the road and hands upon the wheel, please.
Learn more about the technology of the future,
YouTuber tests whether a Tesla autopilot would run over a cat, a kangaroo and Elon Musk
---
Tags:
why do i feel like i'm on autopilot