StandardAero, Thales Offer StableLight Demos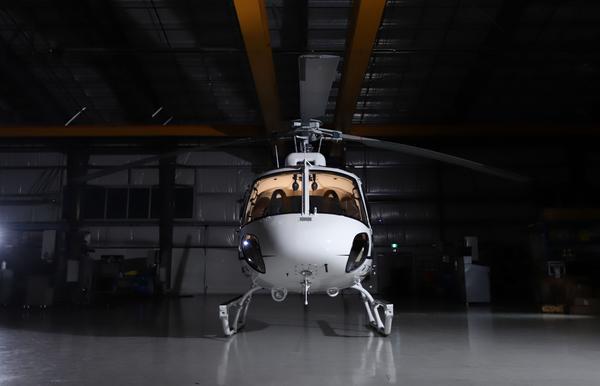 StandardAero (Booth 2417) and Thales brought a working example of their to-be-certified StableLight four-axis autopilot for the Airbus AS350/H125 light single this week to Heli-Expo. The autopilot marks the culmination of a multiple-year project between the MRO provider and the French avionics specialist.
Mounted on a test AS350 in white livery bearing the companies' names and the StableLight brand across the tail boom, the autopilot offers control of the helicopter type's pitch, roll, yaw, and collective in a compact form for the long-lived helicopter originally known as the AStar.
During a demonstration flight Monday departing from the Kay Bailey Hutchison Convention Center vertiport, Thales test pilots James Sleigh and Nicolas Couder demonstrated to AIN the autopilot's capabilities, including the StableClimb flight attitude recovery and terrain pull-up, as well as hands-off, feet-off flight modes. In one instance, the pilots engaged the autopilot's automatic approach function to Lancaster Regional Airport outside Dallas, which ended in a 50-foot hover.
Sleigh compared StableLight to having a second pilot aboard the helicopter in single-pilot operations, thereby increasing safety and decreasing pilot workload.
Christian Blagborne, StandardAero technical sales manager for helicopter programs, said the AS350 is a helicopter StandardAero has been working on for decades, due in part to its helicopter unit's previous ownership, Vector Aerospace, which at one point was owned by the type's OEM, Airbus.
"It's also a very common aircraft in the regions where we are, so we see a lot of these aircraft come through every year," he explained. StandardAero performs heavy maintenance on the type and has developed deep expertise and capabilities because of its history with the helicopter.
"So for us, it was really second nature to apply Thales' compact autopilot system (CAPS) technology to that airframe," Blagborne added. "This is new technology in autopilot systems that Thales has developed, so essentially they have compacted what was previously quite a few more parts into a smaller system that's more capable of being installed in light helicopters."
Pricing for StableLight has yet to be determined, according to Blagborne. It is expected to cost more than other light helicopter autopilots but still be economical for operators. "This is a transport-category-level autopilot for a light-helicopter budget," he explained.
StableLight supplemental type certification from the FAA is expected in the third quarter, with EASA and Transport Canada certification anticipated to follow shortly thereafter. Following Heli-Expo 2022, Sleigh and Couder will take the StableLight-equipped helicopter on a customer demonstration tour of the Western states, with stops planned for Colorado, Arizona, California, Oregon, and Washington.
Tags:
do helicopters have autopilot