Fast driving Walk of Famer – Bill Auberlen learned about race cars at his dad's Redondo Beach speedometer shop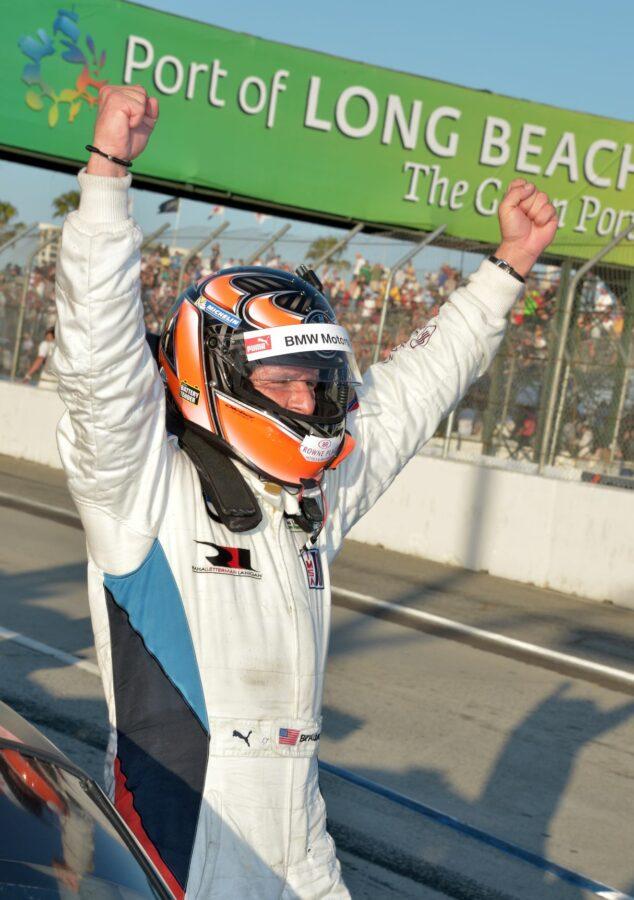 In the run-up to the Long Beach Grand Prix, the legendary IndyCar and IMSA sports car event, two world-famous racing drivers will be inducted into the Long Beach Grand Prix Walk of Fame, the racing equivalent of the brass pro volleyball plaques on the Manhattan Beach pier.
One driver will be Alessandro "Alex" Zanardi, a revered Italian Formula 1 driver, two-time IndyCar Series champion, and two-time Long Beach Grand Prix winner.
The other will be South Bay native Bill Auberlen, a kid who went from sweeping the floors in his dad George's small Redondo Beach speedometer shop to becoming the winningest sports-car driver in U.S. history.
The feature event on the streets of Long Beach is the Sunday, April 10 IndyCar Grand Prix, featuring brutal open-wheeled, purpose-built rocket ships. Bill Auberlen, as a sports car (race-prepped, production-based street cars) specialist, will race in the GTD class of the IMSA WeatherTech Sports Car Championship on Saturday. He and his co-drivers will race their 590-horsepower BMW M4 GT3 against supercars from Ferrari, Porsche, Aston Martin, Lexus, Mercedes-AMG, Lamborghini and Acura.
"Like most young drivers, I wanted to race the fastest, most intimidating racing cars, and in America that means IndyCars, the open-wheel cars that race in the Indy 500. At one point — when I was much younger, and more broke — I had a chance to drive an IndyCar for three races — my first shot at getting a longer-term IndyCar ride. But at the same time," he said, "BMW offered me a three-year deal to drive their sports cars. And I've never looked back. I've been driving for BMW ever since."
In his long, far-from-finished career, he has raced against — and shared a cockpit with — many of the world's fastest Formula 1, IndyCar, NASCAR and prototype drivers, won his class twice at Long Beach, won his class twice at the 24 Hours of Daytona, finished twice in the top five at the 24 Hours of LeMans, and won six professional auto racing championships.
From his professional racing debut at the age of 17, he has won 64 races in total, four more than his closest IMSA rival. Now, at the age of 53, he is gearing up for his 35th season of top-level racing. In a sport that traditionally favors the young, the fearless and, quite often, the clueless, he is still going wheel-to-wheel with the best in the business, and often as not coming out on top.
"Being inducted into the Walk of Fame is a great honor, especially since it's happening at the Long Beach Grand Prix, because that's always been my home circuit. I was born in Redondo. I grew up in Redondo and Palos Verdes. I love it here," said Auberlen.
Bill Auberlen and co-driver, Dirk Werner, celebrate their 2015 victory in the GT Le Mans (GTLM) class of the IMSA Sports Car race at Long Beach for BMW Team RLL (Bobby Rahal, David Letterman, and Mike Lanigan).
"I started up racing motocross in Gardena, at Ascot Park (a legendary, now-closed dirt racetrack). I was probably 7 or 8 years old, racing 60cc minibikes, then went to 80cc bikes, and then 125s. As I was growing up, I just wanted to be where my dad (George Auberlen) was. He raced motorcycles in the desert — he raised me to race motorcycles. My dad owns a speedometer shop in Redondo Beach, called Speedometer Service, and he eventually started racing cars. At first I swept the floors at his shop, then started rebuilding parts, engines and transmissions. Finally, when I was 17 my dad gave me a shot at racing cars. Together, as father and son, we raced a Porsche 911 in the 24 Hours of Daytona, back in 1987, and I've never stopped."
Every veteran racer has at least one terrifying story, and Bill Auberlen has hundreds. But one heart-stopping incident is still watched on YouTube — and marveled over — 22 years later. While driving a 220-mph BMW prototype at the famous Road Atlanta race course, his car went from blasting at top speed over a rise on the main straight to instantly sailing 30 or more feet into the air, rotating backwards like Shaun White backflipping off an Olympic halfpipe.
"I was driving an incredibly fast car, the BMW V12 LMR. In that era (2000), we hadn't gotten everything figured out about (aerodynamic) downforce," he recalled. Modern purpose-built race cars are designed to be pushed down onto the pavement by wings and other aerodynamic innovations, to gain vital traction. Some advanced race cars have so much downforce, in fact, that at speed they could theoretically drive on the roof of a tunnel.
"In those days, if you came up too close behind another car," said Bill, "the still air behind that car would take the air off the front of your car, and you would suddenly lose all the downforce pushing your nose down on the track," said Auberlen. "But the wing at the back of your car would still be pushing down, so your car's nose would just come up, like an airplane taking off. And once the nose comes up at around 200 mph, the wind gets underneath it, and now you're not driving, you're flying.
"Having a motocross (dirt-bike-racing) background, I knew that if the nose of your bike comes up, as in flying off a jump, you could tap the rear brake and bring the nose back down. So I thought that if it happened in the race car—this was a 800-horsepower, 220-230 mph car — I could just do that, tap the brakes, and everything would be fine.
"It didn't turn out that way," he remembered. "I got too close behind another car, just as we were going over a rise, and my car's nose climbed up into the sky before I knew what was happening. The g force of the car flipping up so fast pushed my head straight down, so all I could see was my seatbelt buckle. The car flipped straight up in the air, came all the way over backwards and landed more-or-less on its wheels. I had no time to react — I was still on the gas, the whole way through the flip. When the car crashed to the ground it went to the right, into the wall, at about 180. Now I was just a passenger, but I was lucky in that the car just slid along the wall until it ran out of momentum."
Watching the YouTube video of the crash is heart-stopping. When the once-beautiful, open-cockpit BMW finally stops, in a small cloud of dust and debris, you can see Bill, obviously shaken, popping his belts, quickly climbing up and out of some very expensive junk, then running down the track to get away from a possible fire or explosion. Next thing you know, he's rubbing his bruised arm and chatting with a track worker, as if he had just stepped out of his street car at a gas station.
A crash like that would have likely been the end of most drivers' racing careers. Bill Auberlen was just getting started.
Bill Auberlen drives the #96 Turner MotorSports BMW in the GT Daytona Class.
"How have I kept going, and kept on winning, for such a long time? You just have to keep at it, every day, year after year, with racing being the most important thing in your life. I've never had kids. I thought it would slow me down. I'm probably in the best shape of my life now, at the age of 53. My distance vision is still 20-20, though my near vision is crazy now — there are still some things you can't fight as you age.
"I've always given it everything. I never give up. It's a tough game. I've always wanted the other drivers to know that when I come up behind them, they've got a race on their hands.
"I keep learning every time I go out on the racetrack. I grew up racing my own cars, with my own money, and I know the function of every part, and how to tune the car to get the absolute maximum performance. I never stop making the car as good as it can be. Today's cars, with all the technology — the aerodynamics, turbochargers, traction control, and different electronic engine mapping choices — are very complicated to set up properly, and to drive. I don't do the actual wrenching any more — My BMW team — Turner Racing— has its own engineers and mechanics, and they want me to concentrate 100 percent on my driving. But I can come in to the pits and give them very detailed input on what I want to make the car faster and easier to drive. A lot of younger drivers have never done their own tuning — they've always had somebody else do it for them. They come in and say 'It's doing this." I can come in and say: 'I want this particular setting on this particular part.' So I know that when the same model BMW is on the racetrack with me, for instance, that mine is better sorted out, better tuned, so I give myself every possible advantage.
"What have I learned, in over 35 years of racing? When to go 100 percent, and when to go 90 percent. In endurance racing, like at the 24 Hours of Daytona or the 24 Hours of LeMans, you have to be aware of where you are in the race, and whether it's worth the risk, to your car and your team, to take chances passing another car. In the old days, when cars weren't designed and built as well as they are today, you often had to take it easy for much of the race, just to make sure the car lasted to the finish. But the technology is so good now that it's possible to just go out and drive nearly as fast as you can go. There are times when you have to save tires or fuel, but other than that, you can just go crazy. Of course, you want to make sure you're giving your car to your co-driver in at least as good a condition as when you started your stint.
"If you wind up having a collision, or running off the track, you haven't just ruined your own race, you've messed up a car that your co-drivers have to deal with. And your mechanics have to put it all back together. So I've learned that sometimes it's a better idea to wait a bit, take a few breaths, and be patient. It doesn't do anybody any good if you break your car passing another carfive minutes before that car you just passed breaks or crashes on its own.ER
comments so far. Comments posted to EasyReaderNews.com may be reprinted in the Easy Reader print edition, which is published each Thursday.
Tags:
who's winning the self-driving car race