www.cbr.com Iron Man Fan Builds Mark 85 Armor for Toddler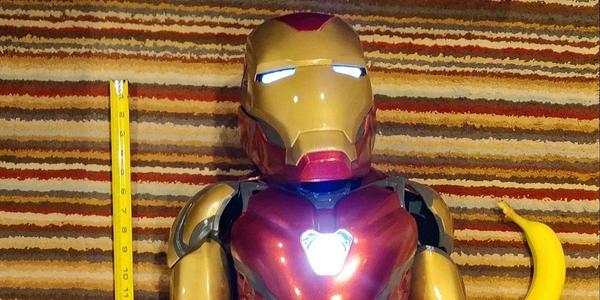 A cosplay artist managed to perfectly replicate Iron Man's Mark 85 armor from Avengers: Endgame, and he made it small enough to fit a four-year-old.
The cosplay armor was created and shared by cosplay artist Daniel Abare who uses 3D printing technology to create models, costumes and armor based on various media. One of his recent commissions was an Iron Man armor suit from the Marvel Cinematic Universe, but for a toddler. Taking up the challenge, Abare printed the Mark 85 Iron Man armor, a project which took the artist approximately four weeks to finish. The final product measures about 46 inches in height and nails every detail of the armor with stunning accuracy, even featuring a working light effect on the eye slots and the arc reactor.
CBR VIDEO OF THE DAY
Related: Ghost Rider Cosplay Includes a Downright Demonic Flaming Skull Effect
View this post on Instagram
A post shared by Daniel Abare (@builddanielbuild)
The Iron Man armor, which Abare said was commissioned for a price of around $1,300, is far from the artist's first 3D printed suit. Abare's other cosplay works included replicas of Star Wars helmets for characters ranging from stormtroopers to Mandalorians. He has also printed a full-body replica of the suit worn by The Doom Slayer, the protagonist of the Doom video game franchise, and other Iron Man armor ranging from the Iron Legion's Starboost suit to the helmet worn by Pepper Potts' alter ego, Rescue. Abare's MCU portfolio also includes movie-accurate replicas of Thor's primary weapons, Mjolnir and Stormbreaker.
Iron Man's Mark 85 armor appeared in the fourth Avengers film, 2019's Avengers: Endgame. Five years after Thanos used the Infinity Stones to wipe out half the population of the universe, Tony Stark (Robert Downey Jr.) used the Mark 85 armor to help the Avengers conduct a "Time Heist" to retrieve the stones from across space and time to reverse the effects of The Snap. Tony wears the suit throughout most of the film, including for the climactic showdown with Thanos in the movie's final act.
Related: Ms. Marvel Takes Flight in Cosplay Celebrating Captain Marvel's 'Swimsuit' Costume
The suit's Mark number is a reference to the comic issue Iron Man #85, which featured the debut of the iconic Iron Man Model IV armor, the suit upon which the Mark 85 was based. Both suits share a plethora of design similarities, including near-identical color arrangement and a sharp bend to the brow of the visor.
Avengers: Endgame garnered staggering success upon its release, becoming one of the highest-grossing movies of all time before it even spent a week in theaters. The movie since inspired countless talented cosplayers, including those of a recent Bro Thor cosplayer that "summoned" actual lightning and a married couple that 3D printed and cosplayed a full-size replica of Pepper Pott's Rescue armor.
Keep Reading: Venom: Marvel Fan Debuts Incredible Gender-Swapped Knull Cosplay
Source: Instagram
ShareTweetEmailThe Batman's Deleted Joker Scene Released, Reveals Gotham's Grotesque Clown Related TopicsAbout The AuthorTravis Northern (147 Articles Published)
Travis Northern is a Gaming News Writer for CBR. He began his career as a gaming journalist with Next Level Gaming back in 2016 and has worked as a freelancer ever since. When he isn't on his PlayStation or writing his next Dungeons & Dragons adventure, he can be found in the querying trenches on his way to getting his first novel published. For writing updates, game humor, and wholesome memes, follow him on Twitter at @tjnorthern585.
Tags:
how to 3d print cosplay