www.3ders.org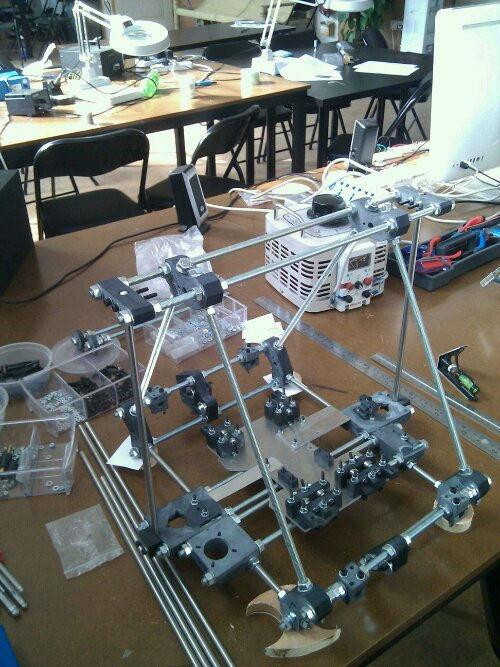 iJet Inc., a 3D printing solutions company from Tokyo, has launched a Kickstarter campaign for ONE HUNDRED TOKYO, a 3D printed replica of the Tokyo cityscape. The complete set consists of 100 pieces (each 100 x 100 x ~3 mm), but individual neighborhoods can be ordered separately.
Tokyo, the capital and most populous city of Japan, is home of the Japanese government, the Emperor of Japan, and some of the most important cultural and business organizations in the country. The city also ranks fifth on the global list of cities most populated by skyscrapers, giving it an unmistakable skyline punctuated by silver towers and neon lights. The city's vertical characteristics are therefore an integral part of its visual identity, but is difficult to really comprehend the cityscape through images or even videos. ONE HUNDRED TOKYO, a giant 3D printed map of the city, gives people a chance to see the glorious metropolis in full 3D from a bird's eye perspective.
With inner Tokyo spanning a huge 845 square miles, iJet took on a huge challenge with ONE HUNDRED TOKYO, a 1/12,500 scale model which has been separated into 100 individual sections which can either be connected together to form a complete map or kept separate to highlight an individual region. Incredibly, the buildings and landmarks of the 3D printed map are all incredibly realistic and accurately proportioned. In recent years, you might have noticed the 3D feature of online map services such as Google Maps—switch to Google Earth, flick on "3D mode," and a city's buildings become erect as though you're looking at the real thing.
To generate these virtual 3D models of cities and their buildings, map services require data obtained through special vehicles which capture the scenery around them in full 3D. One provider of such services is ZENRIN, which has worked with Google Maps, Microsoft, and others to provide realistic urban model data. ZENRIN also provided the data for ONE HUNDRED TOKYO, which means that the giant 3D printed model uses visual data as accurate as that used by Google, Microsoft, etc.
The 3D printed map sections themselves are each 3D printed on full-color 3D Systems 3D printers. The base print is made from gypsum powder, which is then coated in special resin. Once this layer hardens, it is coated with a final layer of resin paint. Each map section measures 100 x 100 mm, with the Z axis variable depending on the specific area and its landmarks, and has a magnetic area underneath for securing to metal surfaces. Each piece is labelled on the reverse so the complete set is easy to fit together, though determined geographers may prefer to assemble the puzzle without help!
Lovers of Japan should be warned that the map won't come cheap: a single piece, which fits in the palm of your hand, will cost an $85 Kickstarter pledge, while the entire 100-piece set is available for $8,750 (early bird). The Kickstarter campaign for ONE HUNDRED TOKYO now requires just one purchase of the complete 100-piece set to meet its target, which has been set at $10,000. The campaign wraps up on October 17, and estimated delivery for all orders is November 2017.
"We want people from all over to world to be able to enjoy the beauty that is Tokyo's cityscape," iJet says. "Your support will allow us to complete the additional data needed to expand to a wider range of available Tokyo areas beyond the original 13 finished areas."
Posted in 3D Printing Application
Maybe you also like:
Sylvia Stavridiwrote at 10/6/2016 6:19:52 AM:Amazing how the 3D printing technologies are evolving in ways we never thought possible!Leave a comment:Your Name:
Tags:
how to 3d print cityscape