Who Are the Influential Women Entrepreneurs in 3D Printing?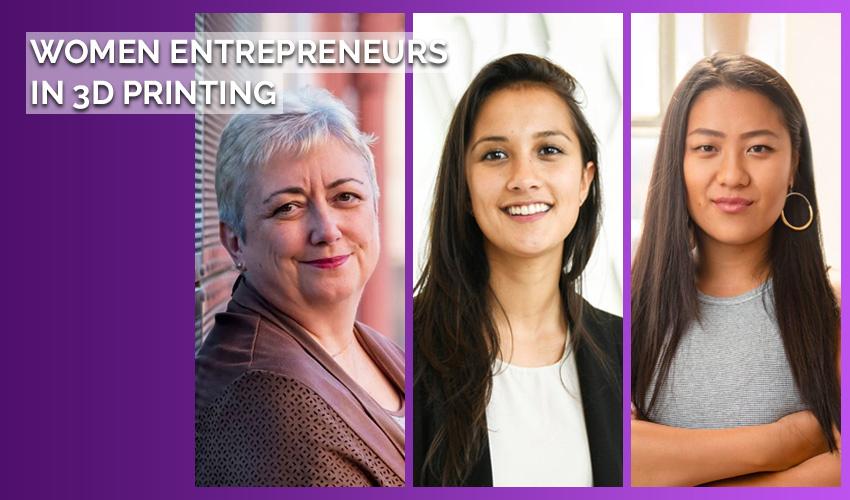 Taking place every year on March 8th, International Women's Day was declared by the United Nations to be the day to celebrate women's achievements around the World. Given that many still suffer from disparity in the workforce, inequal wages and more, it is more critical than ever to recognize the importance of women in our own sector. For that reason, this year 3Dnatives wanted to put the spotlight especially on entrepreneurs and asked our readers to help us identify influential women entrepreneurs in the field of additive manufacturing. Take a look at the final list which is in alphabetical order and learn more about some of women picked from around the world.
One of the most important barriers that companies encounter when adopting additive manufacturing in their activity is the lack of knowledge. More and more training courses and schools are emerging that offer classes on these new technologies. In order to democratize learning in 3D printing, Beatriz Biel has founded Detresdé. Initially dedicated to offering additive manufacturing services, Detresdé is currently focused on providing all kinds of technological courses and training. The entrepreneur thus created Detresdé Academy, no less than a year ago, where any user can access all kinds of knowledge about additive manufacturing. In addition, Beatriz also volunteers for Women in 3D Printing, as an ambassador in Zaragoza, carrying out different events to raise awareness of the possibilities of the technology, as well as to encourage more women to join this industry.
After several professional experiences, Nadine Briallon decided in 2016 to launch 3Desserts Graphics. Located in Lyon, in the heart of Foodtech and Frenchfab, the company designs and distributes 3D food printers certified to CE (EU) standards. The company's flagship product is the solution named L'Impressionnante. Capable of customizing patterns and decorations on desserts or sculptures, the machine is mainly aimed at the food industry, such as pastry chefs, chocolate makers and caterers. Nadine Briallon and 3Desserts Graphiques also offer events around food customization and food design. A success for the entrepreneur, who has already received several awards.
Photo Credits: Bruno Amsellem / Divergence
After 7 years at Sculpteo, Marine Coré-Baillais decided in 2020 to found her own startup focused on food 3D printing. Called La Pâtisserie Numérique, the company aims to revolutionize the pastry market thanks to 3D technologies with the development of a dedicated slicer and a food extruder. Marine combined two passions, cooking and 3D printing, and went back to school to take a test to become a pastry chef. Before creating her company, she was a clerk in great restaurants, notably in the famous Parisian palace, the Meurice. It was certainly a successful bet for this entrepreneur who won the Startup Contest of 3D Print Paris 2021.
In 2017, Cassandra Delage founded Plast'if, a company with a mission to help companies reach zero plastic waste and to accompany them towards more sustainable consumption. More precisely, Plast'if recycles plastic waste and uses it to 3D print new objects. With a Bachelor of Commerce from McGill University in Canada and a Master of Entrepreneurship from HEC Paris, Cassandra has developed a machine capable of recycling a variety of plastics such as PET, PS or PP. All this, accompanied by her team. As you can see, Plast'if offers companies the possibility to minimize their environmental impact and change their consumption patterns.
Photo Credits: Cristophe Pouget
Mariel Díaz is a Mechanical Engineer and Industrial Engineer specialized in management of industrial organizations and mechanical design with more than 9 years of experience in additive manufacturing. She was a professor at the University of Oviedo in the Master of 3D Printing in Spain. Also, Mariel Diaz has been awarded on numerous occasions, among them Best Female Entrepreneur Spain 2018. Mariel was also a finalist in the Global Women in Tech 2020 Award. Currently, she is one of the ambassadors of Woman in 3D Printing and also, 5 years ago she founded Triditive, an online platform where manufacturers can upload their designs, receive quotes and get their parts in a very short time. Her company has patented an automated 3D printing technology for the production of metal and polymer parts based on advanced robotics.
It was in 2016 that Pauline Eveno decided to embark on the SYOS – Shape Your Own Sound – adventure, a startup that designs 3D printed saxophone mouthpieces. She will then add mouthpieces for clarinetists to her range. Pauline is an engineer and doctor in acoustics and has been passionate about music since she was a child. Thanks to additive manufacturing, SYOS now offers custom-made sounds according to the needs and desires of musicians. This is where 3D printing brings all its added value: it allows to design unique products to push performances to the maximum.
Photo Credits: Welcome to the Jungle
We have previously introduced you to Nanci Hardwick. She is the founder of MELD Manufacturing and the creator of their signature technology, a solid-state process which she describes as "unlike any other printing process and belonging to its own category of processes because it does not melt metal. It relies on a thermo-mechanical process that produces very high pressure and friction: these allow the plastic deformation of the extruded material and of the substrate on which the layers are deposited." As well as being CEO of MELD Manufacturing, she has also been the CEO of Aeroprobe Corporation, which provides data measurement systems to aerospace, automotive, turbo-machinery, wind turbine, and wind tunnel testing industries. She has also won a number of prizes for her work including but not limited to the 2019 DOD Maintenance Innovation People's Choice Award, 2019 USARMY xTechSearch Finalist, 2019 Edison Award and 2018 R&D100 Special Award for Most Disruptive New Technology.
Photo Credits: MELD Manufacturing
The next inspiring woman entrepreneur on our list is the Spaniard Elvira León. Graduated as an Aeronautical Engineer and with a Master's degree in Materials Engineering from the Polytechnic University of Madrid, as well as an MBA. Elvira is a professional with more than 20 years in the additive manufacturing sector for various industries. She has developed new businesses and led teams in transnational and cross-functional projects. In addition, she has a deep knowledge of 3D printing, composite materials and Industry 4.0 technologies. Currently, she is one of the ambassadors of 'Woman in 3D printing' and has founded ADDVANCE Manufacturing Technologies, a company that offers services and products to support efficient industrialization of advanced manufacturing.
If you have not already heard about Christina Perla, then you probably should have. Not only is she the co-founder and CEO of Makelab, which of course is the reason she has made our list of influential women entrepreneurs, but she is also a Board Director of Women in 3D Printing and the New York City Ambassador. Not to mention, she was one of the first 250 honorees in "Forbes Next 1000 2021," an initiative that shines the light on entrepreneurs in the United States. She co-founded Makelab in 2017, a 3D printing service that works to help democratize additive manufacturing by helping clients move from ideation to creation using professional 3D printing. The company has seen continued growth despite the pandemic and counts among its clients companies like Verizon, Barkbox and RocNation according to Forbes.
Photo Credits: Downtown Brooklyn Partnership/Christina Perla
Last but not least, Hannah Riedle rounds out our list of influential women entrepreneurs currently working in additive manufacturing. Though she had a focus on medical technology during her mechanical engineering studies at the Technical University of Munich, Hannah Riedle subsequently completed her doctorate at the Friedrich Alexander University in Erlangen-Nuremberg, where she concentrated more on additive manufacturing and biomechanical and medical testing. The building block for her future career as CEO and CTO in her self-founded company ANAMOS was thus laid, as the company builds on the topic of her doctorate at the time. Riedle first came into contact back then through a brief mention of the then still common 'rapid prototyping' during a lecture at university. She said she was most inspired by the development of anatomical models for surgical simulation and the new innovative 3D printing technologies coming onto the market. Driven by the endless possibilities, Hannah Riedle now focuses her company ANAMOS specifically on the production of individually configurable anatomical models for surgical simulation based on additive manufacturing using elastic materials.
Which of these women entrepreneurs has inspired you? Let us know in a comment below or on our Linkedin, Facebook, and Twitter pages! Don't forget to sign up for our free weekly Newsletter here, the latest 3D printing news straight to your inbox! You can also find all our videos on our YouTube channel.
Tags:
what is the importance of 3d printing