The Mind-Bending Sculptures of Andreas von Zadora-Gerlof - Beauty, Rarity, History: The M.S. Rau Blog Blog from ArtfixDaily.com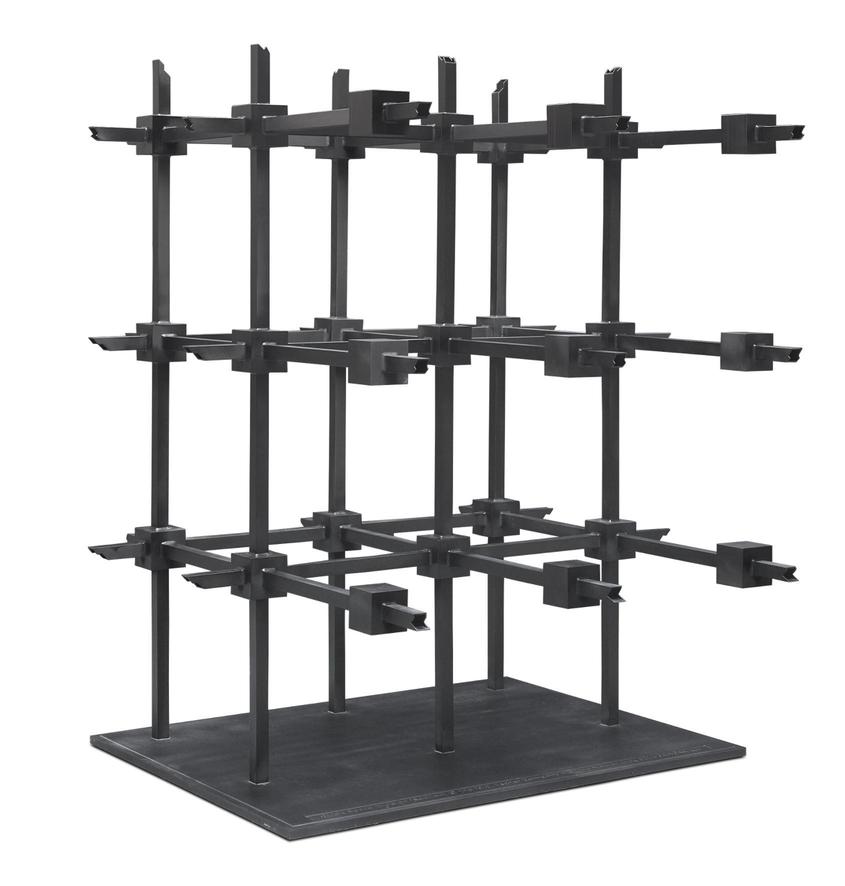 The Mind-Bending Sculptures of Andreas von Zadora-Gerlof
---
Separate email addresses with commas.You may provide up to 30 emails at a time.
You can provide a custom message that will preface the content in the email
Subscribe to our dailynewsletter
Email is invalid
Canadian-born sculptor Andreas von Zadora-Gerlof is recognized as the world's leading gemstone artist, celebrated for his innovative, intricate gemstone sculptures, jewelry and horological creations. Known as "America's Fabergé," for over 40 years von Zadora-Gerlof has entranced and enchanted the world with remarkably realistic gemstone forms as well as dazzling bespoke jewelry for a select clientele. In recent years, von Zadora-Gerlof has expanded his repertoire to large-scale sculpture, with a collection inspired by another great artist — M.C. Escher. Known for his mystical and mind-bending drawings and lithographs from the 1930s, Escher created mathematically focused works that presented two-dimensional optical illusions and puzzles. Working under an exclusive license on Escher's designs, von Zadora-Gerlof astoundingly took these impossible depictions and placed them into reality by rendering them into three-dimensional forms over a fourteen-month period between 2014-15.Cubic Space Division stands over six and a half feet high and five feet wide. Into this massive space, von Zadora-Gerlof imparts a remarkable level of detail, the 3-dimensional space divided by a cubic lattice of uniform cubes connected by rectangular bars in a pattern repeated over and over again, one imagines repeated infinitely. Escher's creation in Cubic Space Division evokes a sense of boundlessness in a finite space, and his mathematical approach makes it visually credible. Von Zadora-Gerlof imparts the same level of mathematical precision in his large-scale version of the work. This monumental steel sculpture has been intricately assembled and powder coated in a dark hue to suggest the drama of the original lithograph. The result is an impressive work of depth and subtly that appropriately pays homage to Escher's original design.During the mid-20th century, Escher created a series of etchings that explored spherical geometry in an attempt to draw attention to the negative space of 3-dimensional objects. His work Concentric Rinds developed from this exploration, and von Zadora-Gerlof's work of the same title builds on this exploration. Consisting of four spherical shells that each consist of nine circles, Escher's complex sphere is divided into 48 similarly shaped triangles that emphasize the immense, mysterious dark space within which his creation exists.Von Zadora-Gerlof brings all of the mathematical precision of Escher's genius design into his large-scale version of the work. His four aluminum spheres are nestled together from small to large, creating a rippling effect when the work is set into motion on its axis. It is powered by a motorized mechanism hidden within its base, ingeniously added by von Zadora-Gerlof to fully exploit the incredible visual effects of Escher's original design. This massive work measures over six feet in diameter and is truly mesmerizing in its kinetic state. The incandescent aluminum spheres are a remarkable contrast to the dramatically dark steel of Cubic Space Division and the brightly colored polymer of the successive piece, titled Gravity. Gravity is perhaps the most intriguing of von Zadora-Gerlof's Escher sculptures. Escher originally executed this piece (alternately titled Gravitation) as a black and white lithograph, later colored by hand in watercolor. Escher's Gravitation was developed as part of an important series of works that the artist created during the mid-20th century that explored planetoids and stars in a science fiction world. Gravitation focused on the impossibility of multiple sources of gravity working together on a single object. Within his complex geometric structure, Escher places twelve turtles without shells, who use the star as a common shell. Represented in six colored pairs – red, orange, yellow, purple, green and blue – each turtle rests directly opposite its counterpart.Though Escher's creation is a physical impossibility, like all of his works, he presents it in a visually credible and logical way. That same mathematical precision is applied to von Zadora-Gerlof's version of the work. Exactingly rendered on an extraordinarily large scale, the sculpture makes manifest the genius of Escher's creation through precisely cut pieces of stainless steel and 3D-printed polymer. At first glance, the work appears to be a nonsensical jumble of turtle heads and limbs, though a closer inspection reveals the inherent symmetry and harmony of the ingenious creation. From a distance, the terrapin limbs appear almost human, and one must approach the work closely to determine the true form and nature of the figures.Von Zadora-Gerlof's exceptional ability to take the illusion-based drawings of Escher and turn them into a real-life experience is tremendously exciting. M.S. Rau owner Bill Rau says of von Zadora-Gerlof, "his art is masterfully executed and possesses a captivating charm." With his boundless imagination and limitless talent, we invite you to experience the work of this visionary artist. Click here to view our current collection of Andreas von Zadora-Gerlof artworks.About M.S. Rau:M.S. Rau has spent more than 100 years earning the trust of discerning collectors worldwide. Located in the heart of New Orleans' historic French Quarter, our peerless showroom houses one of the world's most extensive and stunning collections of museum-quality fine art by artists such as Claude Monet and William Bouguereau, 18th- and 19th-century antiques and breathtaking jewelry, including rare colored diamonds.
Tags:eschersteelaluminumpolymermodern artkineticcontemporary artsculpture
---
Separate email addresses with commas.You may provide up to 30 emails at a time.
You can provide a custom message that will preface the content in the email
Tags:
how to 3d print lithographs