Tech Would You Live In A 3D-Printed House? Here's What You Should Know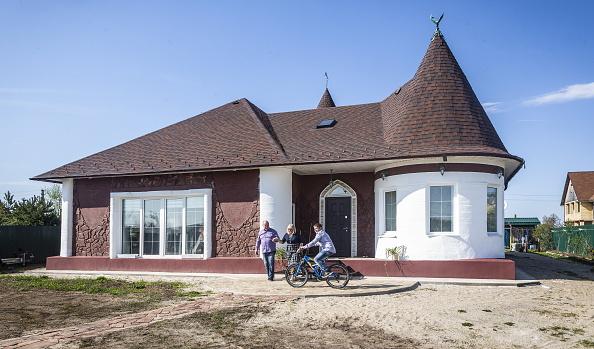 3D-printed house. It sounds a bit weird and perhaps even impossible if you think about it. When you hear 3d-printing, you tend to think of things far smaller than an entire house; say, a pendant or armor plate for cosplay. But a house sounds improbable, right?
(Photo : Sergei Metelitsa\TASS via Getty Images)YAROSLAVL, RUSSIA - MAY 11, 2018: Outside a Yaroslavl residential building of 298.5sqm in total area, constructed with an AMT-Specavia S-6044 3D-printer, the building blocks made of sandcrete.
It actually isn't. You'll learn why it's not, and why 3d-printed homes are fast becoming a potential solution to the global housing shortage.
Printing A Home
3d-printed housing is starting to become a far more common occurrence than you think. The Los Angeles Times cited a few recent examples in a report, featuring both for-profit and non-profit organizations venturing into the realm of 3d-printing technology to solve the immediate housing crisis in the United States.
One of these organizations is Habitat for Humanity, who unveiled its first 3d-printed house last year in Williamsburg, Va. The home was bought via the Habitat Homebuyer program and is nothing to scoff at: it's a three-bedroom, two-bath dwelling measuring 1,200 square feet.
According to Architectural Digest, the home was constructed in only 28 hours (an insane feat in itself) and is reportedly strong enough to withstand hurricanes and tornadoes.
Another example is not exactly a house, but the largest 3d-printed building in the world: the Dubai Municipality Building. According to its builder Apis Cor, the two-storey building measures 9.5 meters (over 31 feet) tall, and has an area of 640 square meters (over 6,800 square feet).
With these examples, you should know by now: 3d-printing a house is not impossible. In doing so, you can create a livable abode in mere hours compared to several months or even years of construction work if you're building a typical one.
Furthermore, it is also far cheaper compared to buying a traditional house. The aforementioned construction company Apis Cor, for instance, will cost around $10,150 to build for a relatively small structure, according to Pick3DPrinter. Prices may vary among companies, however, so take note of that.
Read Also: This Is The First 3D-Printed Hotel Suite In The World: Yes, It Has A 3D-Printed Jacuzzi
Is A 3D-Printed House The Answer To The Housing Shortage?
The definitive answer to this question is likely still far away, but the movement is here and it does offer some respite from just how unreachable homeownership is for a lot of people. In the United States alone, the shortage has already reached insane levels.
In a report by PBS.org, it was revealed that the US is around four million homes short. Furthermore, around one in four renters pay over half their entire income in rent, which has forced a lot of people out of their homes and into alternate living arrangements-sometimes even on the street or in their cars.
(Photo : Sarah Reingewirtz, Los Angeles Daily News/SCNG)Pasadena, CA - February 22:Kourtney Williams, 34, finds a storefront to bed down for the night on Colorado Boulevard before being added to the Pasadena Homeless Count on Tuesday, February 22, 2022. Williams moved to the Los Angeles area from Florida to be an actor in 2019 but found herself on the streets after the car she was living in was impounded.
Globally, the story doesn't change much. Home prices have skyrocketed in recent times, with Hong Kong being the most expensive city to buy a house in: the average price of a residential property there is at an insane $1.25 million, according to Statista.
Whether 3d-printing tech will help solve the global housing crisis remains to be seen, but one is for certain: the technology itself will still improve. It will grow to be far more efficient and cheaper within the next few years, which could trickle over into housing and make homeownership a far more attainable goal for anyone out there.
Related Article: Sectors 3d Printing Is Revolutionizing
This article is owned by Tech Times
Written by RJ Pierce
ⓒ 2021 TECHTIMES.com All rights reserved. Do not reproduce without permission. Tags:3D Printing3d printed homes
Tags:
can i buy a 3d printed house