Illumina sues former employees turned founders of Guardant Health
Illumina sued Redwood City-based Guardant Health and its co-founders Helmy Eltoukhy and AmirAli Talasaz last week on grounds that they used Illumina's intellectual property to file patents for Guardant, and did so while Eltoukhy was still on payroll at Illumina. The San Diego company wants the patents that Guardant filed turned over to them.
Guardant Health is a liquid biopsy company whose FDA-approved tests help guide treatment decisions for patients with advanced cancer. The company's ultimate goal is to detect cancer at its earliest stage that can lead to therapeutic or other intervention, which in turn would boost chances oflong term survival for cancer patients.
According to the lawsuit that Illumina filed, back in 2008 and 2009 respectively, Eltoukhy and Talasaz joined the molecular diagnostics and DNA sequencing company. Each signed a contract that said they would adhere to several terms during employment that included among other things the following: not competing with Illumina, protect Illumina's confidential and proprietary information, and return Illumina materials to the company upon termination of their employment.
However, in 2011, while both were employed at Illumina, Eltoukhy and Talasaz founded Guardant Health, the lawsuit alleged. Illumina claims that the two drew on Illumina's intellectual property and internal company information to create Guardant's technology. The following year in June 2012, Talasaz left Illumina to work at Guardant full time.
Illumina says that two days after Talasaz's final day at Illumina, Eltoukhy asked a coworker for information not related to his project at Illumina, but that included Illumina's confidential intellectual property, and sent the information to his gmail address before forwarding them to Talasaz at Guardant. In addition to allegedly sharing confidential information, Eltoukhy used Illumina's equipment to file patents on behalf of Guardant, according to the suit.
Further, when Eltoukhy left Illumina in January 2013, he took 51,000 emails owned by Illumina, 1,400 of which were labeled confidential and for internal use only, according to the suit. Illumina says he did not disclose that he had taken the items when he left.
Apparently, Illumina remained unaware he had done so until 2019 when it received a discovery request pertaining to two other lawsuits: Guardant Health v. Personal Genome Diagnostics [No. 1:17-cv-01623-LPS-CJB (D. Del.)] and Guardant Health Inc. v. Foundation Medicine [No. 1:17-cv-01616-LPS-CJB (D. Del.)]. In the course of complying with the legal request, Illumina found Eltoukhy had kept the 51,000 emails, including the 1,400 confidential ones, the lawsuit said. Illumina is asking for damages tied to trade secret misappropriation, correction of inventorship, and breach of contract. Illumima is seeking unspecified damages for Guardant's and its founders' actions.
When asked for comment, a Guardant spokeswoman didn't initially respond to the allegations, instead forwarding a statement raising a point of contention between the two companies: Guardant claims Illumina is suing to try to stomp out competition. In fact, the company that was spawned from Illumina, one which it subsequently acquired— Grail — is in direct competition with some of Guardant's products.
"Nearly a decade after these patents were filed, Illumina's lawsuit frivolously challenges our ownership and authorship of our intellectual property, which is the backbone of our vital work. We believe Illumina is using the courts to retaliate against us for registering concerns about the antitrust implications of Illumina's acquisition of Grail – another provider of blood-based cancer tests – and in an attempt to slow us down in the marketplace as we get ready to launch our blood test to screen for early signs of colorectal cancer," said John Saia, SVP, general counsel, and corporate secretary of Guardant, in a statement issued last week after Illumina sued.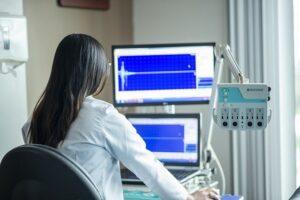 However, when pressed further on the validity of Illumina's claims that the two executives exchanged Illumina's confidential information when Eltoukhy was still employed at Illumina, the spokeswoman responded:
"We aren't going to comment on specific allegations at this time," said Michele Rest, a spokeswoman with Guardant in an email. "I would like to reiterate that no Illumina trade secrets or confidential information were used to develop Guardant Health's industry-leading assays."
Despite their spat, it appears that the two companies plan to continue working together for now.
"Our long-term supply agreement with Illumina remains in force and our work for patients will not be interrupted," Saia said in the statement. "However, we cannot stand by and allow unfair practices in the marketplace or false claims to be made about our intellectual property, which we will vigorously defend. The stakes are too high for the cancer patients who rely on our important work."
Photo: zimmytws, Getty Images
Promoted
Healthcare industry is transitioning to value-based care models. That's why the medical deviceindustry's ability to continue the development of life-changing innovations will rely ondemonstrating how new technology fits under this value-based paradigm. To build future-ready solutions, it's important to focus on choosing the right tools and technology partners. The Innovaccer Health Cloud is well-positioned to do just that!
Innovaccer's Rishav Krishna & Smriti Khera
Promoted
Braeden Lichti, a Canadian investor and co-founder of a private investment firm has launched several healthcare companies, talks about how he got his start.
Sheeva Azma, on behalf of BWL Investments
Tags:
why is 3d printing so slow