Get FLSUN QQ-S-Pro Delta 3D Printer at €251.41 From TOMTOP in Flash Sale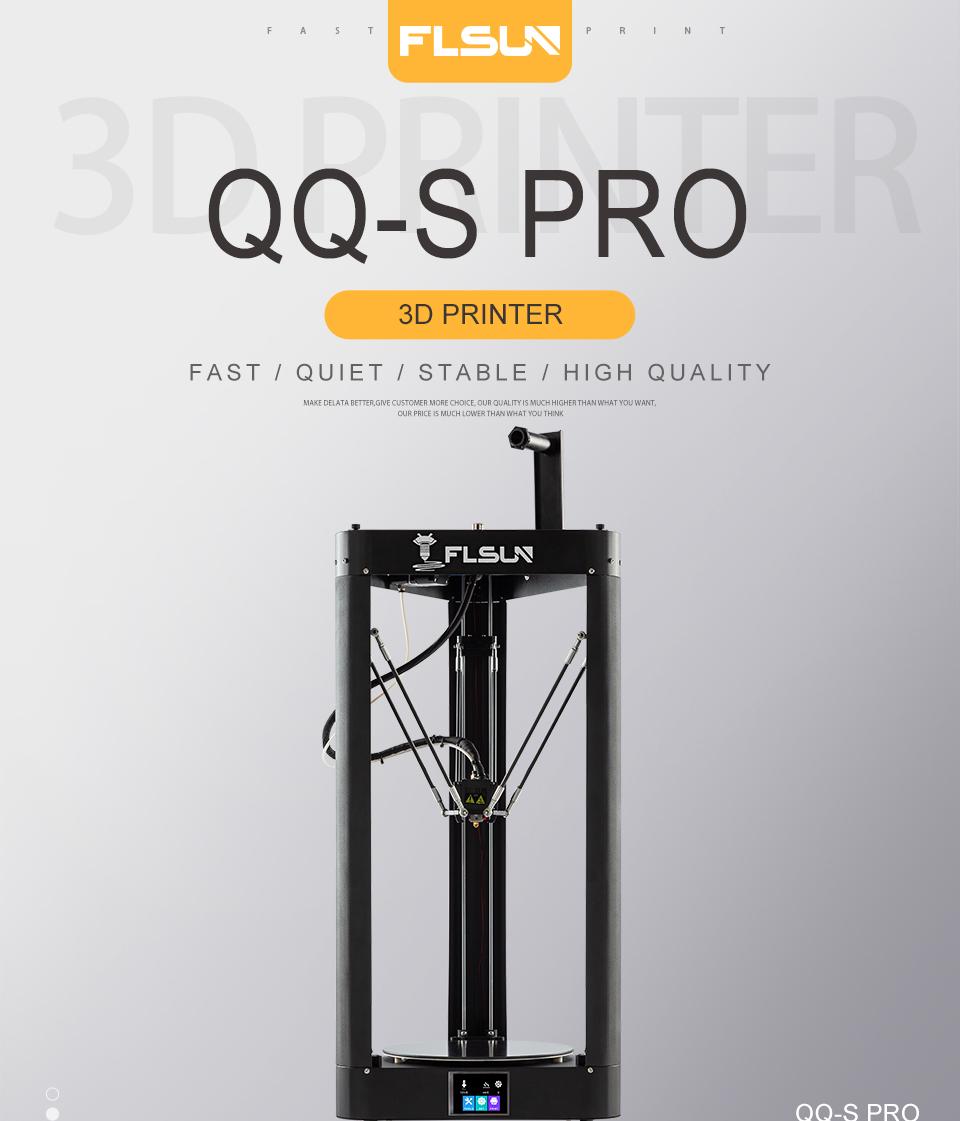 FLSUN QQ-S-Pro Delta 3D Printer is an upgraded version of QQ-S. QQ-S Pro uses a 32-bit motherboard and automatic leveling mode. QQ-S Pro movement system using high-precision linear optical axis with self-lubricating graphite bearing, which can obtain good printing accuracy and quiet effect during high-speed movement. Support offline, USB, and WiFi printing modes. The powerful Titan extruder is compatible with many common filaments on the market and is especially suitable for hard filament such as PLA. The default printing speed of QQ-S Pro is 60mm/s, even running at 100mm/s, better printing quality can be obtained.
The FLSUN QQ-S-Pro is made of stainless steel (SAE 304) to ensure good stability without vibration during printing. Its layer precision can be adjusted from 50 to 400 microns and its automatic leveling uses 6 + 21 contact points over the entire surface of the disc ("auto-level" function from the control screen). The Bowden-type Titan extruder heats up to 270 ° C while the tray can reach 100 ° C. Compatible filaments are PLA, ABS, PVA, HIPS, wood, and other derivatives of PLA. The steppers are of the Nema17 type. Resume printing after shutdown is a feature on the QQSPro. If FLSUN does not offer slicer software, it recommends Cura which embeds a preloaded profile of the QQ-S Pro. Other slicers like Repetier-Host and Simplify3D can also be used.
With this model, the manufacturer is primarily promoting the new FLSUN QQ-S-Pro grid platform, which has a high-strength composite coating, heats up quickly, and ensures less warping. This results in a strong adhesion of the 3D print, but also in its easy removal after cooling. The print bed reaches a temperature of up to 100 degrees Celsius in less than 5 minutes so that the most common filaments can be used. This is a delta 3D printer that has a non-moving print bed. After it has been automatically aligned once, printing can begin. The FLSUN QQ-S Pro includes a 32-bit motherboard and a separate MOS, which is more efficient and more reliable than an 8-bit module.
The FLSUN QQ-S-Pro 3D printer is 90% assembled when you receive it – You will need approx. 30-60 min. on assembling the device and then you are quickly in the process of printing your first 3D item. Patented technology with aluminum V-slot bearing + precision roller of nylon with high position accuracy to make the printer work easily and to achieve higher quality printing. Same design as known from CNC machines, and larger printers. A design that has been thoroughly tested and is known for its stability, precision, and reliability. The printer has a simple design, it is easy to troubleshoot and easy to repair if something should break.
Here you get top-quality print quality, and with the high print speeds that characterize a Delta 3D printer. High print quality without having to invest a fortune. FLSUN QQ-S-Pro allows you to one of the largest print areas for the price with 360 mm in height and a diameter of 255 mm. The touch screen makes it easy to operate 3D printers, and at the same time; the automatic bed level makes it a breeze to have to start your first print.
The FLSUN QQ-S-Pro is the only delta 3D printer. The machine is very precise; has served me very well over the pandemia, and is overall a very good buy for the price that you pay; regarding that, it comes 95% preassembled. You can buy it from TOMTOP at €251.41 (Inclusive of VAT)and ship it from Germany Warehouse (3-7 business days).
Tags:
where to buy 3d printer filament