Craft retailer JOANN invests in Glowforge, will let customers use 3D laser printer at stores
Glowforge is making its brick-and-mortar debut thanks to a new investment from craft retail giant JOANN.
The Seattle startup today announced JOANN as an investor and new national retail partner. It will place its 3D laser printer at select JOANN physical stores across the country, allowing customers to use its machine that is different from most other 3D printers. Instead of making objects out of plastic strands, it uses a laser to quickly cut and engrave products made from raw materials like leather, paper, plastic, fabric, or cardboard, all with the push of a button.
A Glowforge device is already available at the JOANN kiosk inside Natick Mall near Boston and at the retailer's new concept store in Columbus, Ohio. The two companies will also collaborate on developing tools to bolster the machine's capabilities and make the device available for custom online orders.
"We know our customers are looking for the best and latest creative technology, and we want to bring them the opportunity to try it first," Stephen Caution, vice president of business development at JOANN, said in a statement.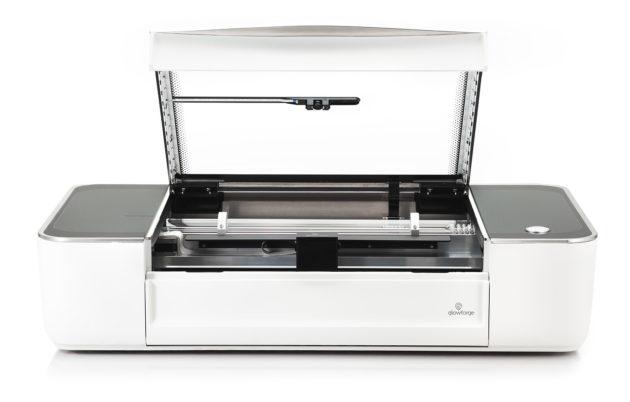 Caution added that JOANN "has become much more than a place where people buy things, and we know crafters want more options like this," reflecting a larger trend of physical retailers aiming to beef up the in-store experience as they face pressure from e-commerce competitors.
Terms of the investment were not disclosed.
Glowforge launched more four years ago. The company set a crowdfunding record in October 2015 but had trouble fulfilling orders, delaying production and shipping numerous times.
But the startup has been working its way back, getting the original orders completed and expanding its footprint. The company announced $70 million in total sales this past January and customers have now created more than two million prints with the devices, which recently launched on Amazon. Prices range from $2,495 for a basic model to $5,995 for the Pro version.
Glowforge has raised more than $40 million to date, including a $10 million investment this past April from investors True Ventures and Foundry Group. The company employs 78 people.
Shapiro co-founded the company with fellow startup veterans Mark Gosselin and Tony Wright, who left Glowforge last year. Shapiro previously created Robot Turtles, a coding board game for kids that was one of Kickstarter's most successful campaigns ever.
Tags:
how much does a glowforge 3d printer cost